Compliance Recording
Quantify PCI Suppression

PCI DSS (Payment Card Industry Data Security Standard) helps to maintain data security by prohibiting organisations from recording payment details. Quantify provides a range of 'out of the box' options for compliance, allowing you to decide how it works for your organisation and can be implemented most cost-effectively.
Compliance recording through silence

Red Box Quantify PCI Suppression gives you the tools to make authenticated voice and screen records with automatically or manually triggered suppressed audio or visuals. When configured to work automatically, the software triggers suppression when an agent opens a card-payment application to prevent the capture of sensitive information that's spoken or visible on the payment card application. Recording automatically resumes when the taking of details is complete. Suppression can also be initiated manually if required at the push of a button.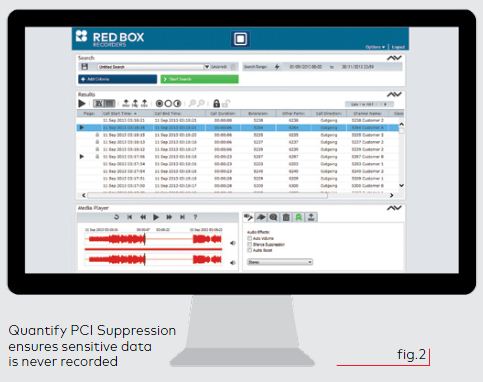 Quantify Mobile Recording Suite
Financial services organisations must comply with market regulations for electronic communications recording. Regulations such as Dodd-Frank and COBS 11.8 mean that mobile phones and text messaging fall under data recording and retention policies. Red Box's Quantify Mobile Recording Suite integrates with Quantify Recording Suite to provide a fully encompassing and secure solution for recording mobile communications.
Highly capable
Quantify Mobile Recording Suite works with your BlackBerry® mobile service as an on-premise or hosted recording system or as an intercept mobile or SIM-based recording solution. What's more, since you make or receive calls as normal, there's no noticeable change to the mobile handset experience.
Lower cost

Quantify Mobile Recording Suite treats mobile recording the same as fixed-line recording, meaning that means you pay less per user. There's no additional hardware or complex licensing – one license per user covers everything. It's a seamless, one-off investment that secures your organisation and helps achieve compliance.
Quantify CallSafe

Red Box Quantify CallSafe allows you to keep calls for investigation, compliance or legal disclosure. Calls can be locked and stored safely, with no threat of deletion, for as long as you need them to be – indefinitely if necessary. CallSafe is used in a range of sectors and provides 'litigation hold' in financial trading.
Locks the original call

With a single click Quantify CallSafe puts the call, or set of calls, into secure network storage. While in litigation hold, the call can't be altered or overwritten, but can easily be referenced with a note or incident number. There's no effect on other calls; these stay compliant with your usual retention requirements.